Laser Dentistry
Using High-Tech Tools for Precision and Patient Comfort in the Denver, CO Area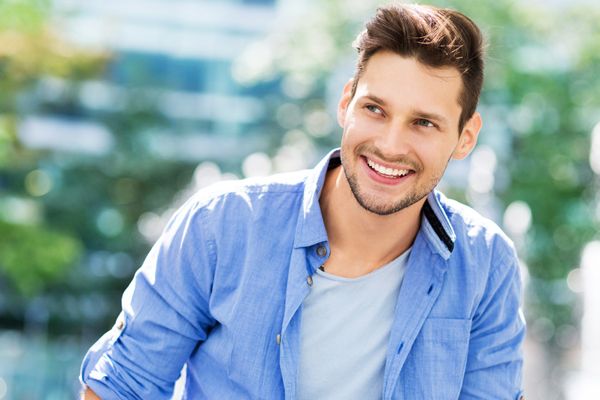 Dentistry has progressed immensely in the past few decades, and with the advancements in materials, techniques, and technology, we now have dental lasers. These lasers are specifically used for dental procedures and are operated by a dentist, in the office. Dr. Rippe is happy to bring laser dentistry to our patients, because it allows for optimal precision while being minimally invasive so that recovery time is greatly reduced. We employ both soft and hard tissue lasers, meaning that we can address teeth and gum tissue with this innovative technology.

Dr. Christian Rippe's dental office is located in Centennial, CO and is currently accepting new patients. If you'd like to experience state-of-the-art technology firsthand, call us today at 303-779-9876 to schedule your appointment.
Soft Tissue Lasers
Laser dentistry for soft tissue treatments is diverse. Dr. Rippe can remove diseased or dead (necrotic) gum tissue, eradicate bacteria at and below the gum line (gum disease treatment), and reshape the gum line for a more pleasing smile. Crown lengthening is also performed by laser, making more room for a crown to be applied to a tooth. Without a laser, these periodontal procedures require a scalpel and suture method, which is quite invasive and has a potential for a long recovery.
In contrast, laser periodontal treatment is performed only with the laser. No scalpel or sutures are necessary. The laser trims gum tissue and seals it, along with nerve endings and blood vessels. Patients experience little or no bleeding, and because no sutures are placed, recovery is prompt. Many patients return to work the next day. Furthermore, the laser sterilizes the area being treated, reducing the risk for bacterial infection.
Soft tissue laser dentistry is also used to take biopsies of suspicious lesions, which are sent to a lab for analysis. Cold sores can be zapped with our laser, and they'll never return in the same location! For chronic cold sore sufferers, this is an amazing therapy.
Hard Tissue Lasers
Laser dentistry for teeth and bones requires a different technology than what we use for soft tissues. Dr. Rippe may use our hard tissue laser to prepare teeth for fillings, bonding, crowns, or veneers. In some cases, such as treating a small, topical cavity, anesthetic is not required. He may also employ the laser during root canal therapy, to sterilize canals in preparation for a gutta-percha filling.
Benefits of Laser Dentistry
Precision of treatment is one of the biggest benefits of using dental laser. However, patients also appreciate the little or no bleeding associated with soft tissue procedures, and the quick recovery time due to less invasive surgery. Laser procedures are also quite fast, which saves you time!
All of these benefits add up to laser dentistry being the ideal treatment option for people who don't particularly like dental visits. Dr. Rippe, as a sedation dentist, appreciates the reality of dental fear, anxiety, and stress. For some patients, laser dentistry relieves the need for sedation. For others, a combination of dental sedation and laser treatment make dental procedures fast and comfortable, for both mind and body.
Now Accepting New Patients
Would you like less invasive, more precise dentistry? Our office uses laser dentistry, as well as digital x-rays and many other high-tech tools that make dental care more enjoyable for our patients. Call our Centennial, CO dental office today at 303-779-9876 to schedule your appointment. Dr. Rippe is accepting new patients and treats children, teens, and adults in all stages of life. Note also that laser dentistry is safe for children and adults!