Invisalign
Clear, Removable Orthodontics for Teens and Adults in Centennial, CO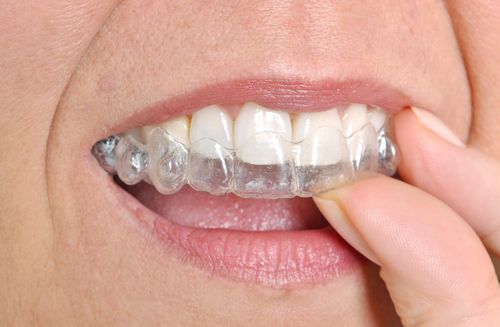 Do you envy people with straight teeth and sensational smiles? It seems wherever we look, people have straight teeth, and they look great. Cosmetic dentistry and orthodontic treatments are now more cost-effective and convenient than ever before. If you have always disliked your smile because of crooked front teeth, or your once-perfectly-aligned teeth have shifted out of place over the years, talk with Dr. Christian Rippe about Invisalign clear, removable orthodontics. This innovative treatment takes less time than traditional orthodontics, is much more convenient, and no one will notice that you're wearing an orthodontic appliance!

Research by the American Academy of Cosmetic Dentistry tells us that people with a beautiful smile are thought to be smarter, friendlier, and more successful than others. If you're ready for straighter teeth and a smile that reflects your true personality, call 303-562-1073 to reserve your Invisalign consultation with Dr. Rippe in our Centennial, CO dental office.
How Invisalign Works
After your oral examination, Dr. Rippe can advise you on whether Invisalign or traditional orthodontics would be the best treatment for your case. If you pursue Centennial CO Invisalign, the first step will be to take impressions of your mouth. The impressions will be used as the starting point for your treatment plan. Invisalign software will create a series of custom designs for your aligners, with each aligner shifting teeth toward the ultimate goal: straight teeth and healthy occlusion. (Occlusion refers to the relationship between the upper and lower teeth when your mouth is closed.)
An Invisalign aligner is made of clear acrylic, a comfortable plastic that is inconspicuous against teeth. Wear each aligner for approximately two weeks, then move to the next in your treatment plan. Dr. Rippe will evaluate your progress every six weeks in our office, at which time he'll give you the next few sets of aligners.
You will enjoy comfort with this orthodontic therapy. There are no metal wires, rubber bands, or tightening appointments – common causes of pain and discomfort associated with traditional braces. Many people opt for Invisalign because of its practically invisible appearance. Another benefit to consider is that Invisalign usually takes 9 to 12 months, whereas traditional orthodontics lasts approximately two years.
Rules for Staying on Track
Complying with your treatment plan means wearing your aligners as directed, which is about 22 hours per day. You may remove the aligners when cleaning your teeth, eating a meal, or participating in a special event that calls for speaking or showing off your smile. However, if you do not wear the aligners as directed, treatment will not end on time. Prolonged periods of not wearing your aligners could result in teeth shifting back out of position. When this occurs, treatment must be re-planned and re-started.
Don't Delay – Schedule Your Exam Today!
Schedule your appointment with Dr. Rippe by calling our Centennial, CO dental office at 303-779-9876. He will evaluate your oral health and occlusion, then discuss with you the best treatment options to meet your goals. We serve patients of all ages from Englewood, Greenwood Village, and the DTC area.