Full Mouth Reconstruction
Recreating Excellent Oral Health and Appearance in Centennial, CO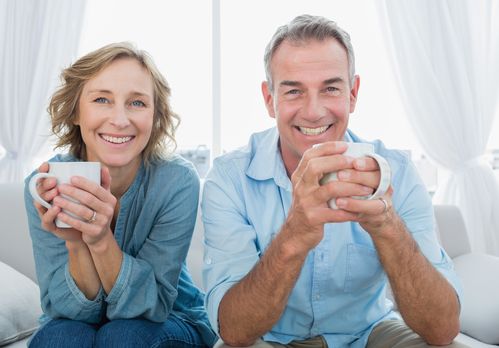 Despite our best efforts, the majority of us will still experience some degree of decay or damage to our teeth and mouth over time. Other issues can also occur, such as problems with our bite (how our teeth meet when our mouth is closed) or the alignment of our individual teeth.

Whether naturally-occurring or the result of an accident, some of these issues can become serious and affect the function and appearance of your smile. When your teeth are severely compromised, and there is a great deal of dental work to be done to bring them back to full health and function, we may recommend you for a treatment program known as a full mouth reconstruction.
What is a full mouth reconstruction?
As its name suggest, a full mouth reconstruction involves restoring all teeth in either the upper or lower arch, so that the patient can enjoy eating, drinking, and speaking normally again, as well as benefitting from a smile that looks healthy and natural.

Every full mouth reconstruction treatment is tailored to the patient's unique and individual needs. As such, the exact procedures that may be included in your program could vary widely. However, most full mouth reconstructions involve a combination of the following:

- Prepping teeth for reconstructive work (filing down teeth for dental crowns, performing root canal, filing enamel

- Assessing gum (periodontal health) and providing treatment where necessary

- Reconstructive treatments including crowns, cavity fillings, dental bridges, and porcelain veneers

- Orthodontic assessment and treatment where necessary (including braces or Invisalign)

- Bone or soft tissue grafts

- Dental implants and associated procedures

- Crown lengthening

- Teeth whitening

- Dental devices, such as mouth guards to prevent bruxism


When is a full mouth reconstruction necessary?
A number of factors will help determine whether a full mouth reconstruction if the best course of action to address your dental problems and restore the function and appearance of your smile. However, most patients who are considered to be good candidates for a full mouth reconstruction treatment program tend to:

- be suffering from moderate to severe gum disease (periodontitis)

- have extensive decay across multiple teeth

- have fractures, broken or otherwise damaged teeth

- have sustained damage to their teeth as a result of a trauma

- suffer from GERD and find that teeth are eroded as a result

- have bite problems that are causing them to experience persistent pain in their ear, head, jaw, or neck

If any of the above problems apply to you, and the function of your teeth have been compromised as a result, you may be a suitable candidate for a full mouth reconstruction.
​​​​​​​
To find out more about full mouth reconstruction treatment programs, or to arrange a consultation to discuss a treatment plant, please do not hesitate to contact us.